Background of CAR-T therapy and EME's approach:
CAR-T is a therapeutic modality that has been attracting attention in recent years, especially in the field of oncology. A number of  CAR-T therapies have been approved by the FDA in recent years, and data of highly therapeutic effects have been reported for blood cancer such as leukemia.
However, CAR-T therapy still has some issues, strong adverse effects such as cytokine release syndrome and immune effector cell associated neurotoxicity syndrome. Thus, many researchers have been tackling these issues and working for improvement of CAR-T therapy. Additionally, recent research implies the ability of the application of CAR-T therapy for solid cancers.
Most FDA approved CAR-T medications are constructed with scFV for recognizing target antigen, but one of the CAR-T medications, Cavycti marketed by Janssen Biotech is constructed with VHH antibodies. Thus, many CAR-T therapies which are constructed with VHH antibodies are likely to be developed in the near future.
In EME, we have been considering how to approach CAR-T therapy with our unique technologies, (1) PharmaLogical®Library:synthetic humanized VHH library that is designed to lower the immunogenecity and (2) our high throughput screening that utilized cDNA display. We believed that  PharmaLogical® VHH (the VHH antibody which is isolated from PharmaLogical®Library) should be suitable for constructing CAR-T.
Methods:
Firstly, we isolated PharmaLogical® VHH candidates from PharmaLogical®Library, ①VHH antibody candidate that inhibits immune checkpoint and ②VHH antibody candidate which recognizes target protein which cause certain solid cancer. After that we constructed CAR-T with these VHH candidates then we measured secretion of IL-2 from the T-cell cell line of CAR-T.
Result:
In our result, we successfully observed secretion of IL-2 from the T-cell line of CAR-T. Also the amount of IL-2 secretion was dose-dependent.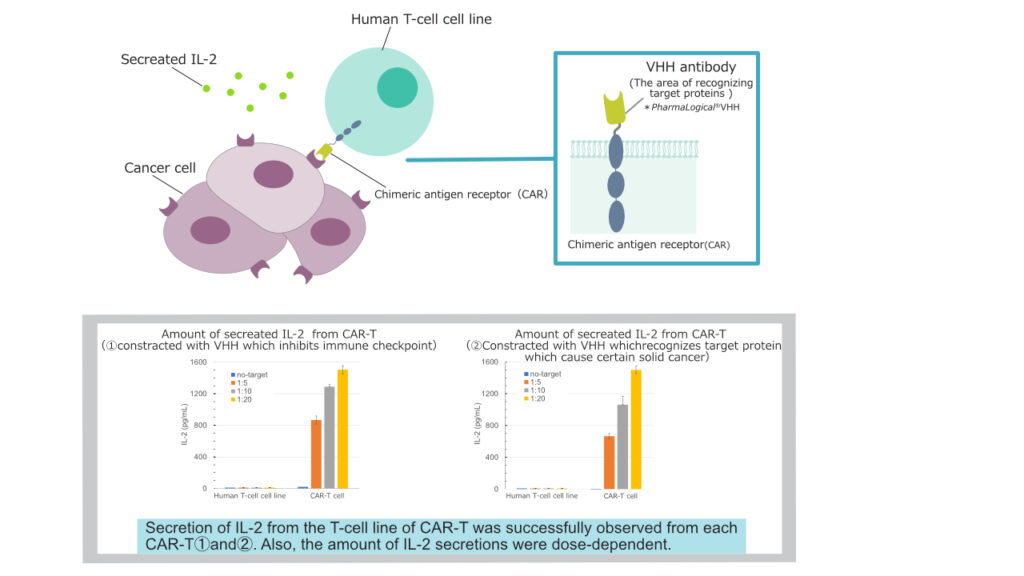 Future direction:
Based on this result of CAR-T that is constructed with PharmaLogical® VHH antibodies, we have been seeking collaboration opportunities with pharmaceutical companies and others for acceleration of the development of CAR-T therapy.
Also, we will accelerate improvement of our VHH screening technologies, and develop high quality VHH antibodies to the world.
Reference:
CAR T Cells: Engineering Patients' Immune Cells to Treat Their Cancers was originally published by the National Cancer Institute.
https://www.cancer.gov/about-cancer/treatment/research/car-t-cells
Back