EME will exhibit at the 3rd PharmaLab Expo- [Pharmaceuticals] Research and Development Exhibition- (sponsored by RX Japan Co., Ltd.) to be held at Makuhari Messe from December 8, 2021 for 3 days. In addition to exhibiting at the booth at this exhibition Venture Innovation Pavilion (booth number: V-06), a venue for exhibiting venture companies, academia's drug discovery technology and seeds presentation will be set up at the special venue, and the first day of the exhibition (December 8th (wed), 13: 45-14: 15), our Business Development Section staff will give a presentation on our products, services and technologies at Venue D.
EME will introduce our own drug discovery strategy regarding the screening platform "The Month" that can efficiently acquire the next-generation antibody VHH and our original humanized artificial VHH library (PharmaLogical® Library).
The outline of the event, our booth number, presentation date and time, etc. are as follows. We look forward to your visit.
【Name】3rd PharmaLab Expo-[Pharmaceuticals] Research and Development Exhibition-
【Date】 December 8th (Wednesday) to 10th (Friday), 2021 10: 00-17: 00
【Venue】 Makuhari Messe
【Booth No】 Venture Innovation Pavilion V-06
【Presentation date and venue】 Wednesday, December 8th, 13: 45-14: 15 Venue D
【Organizer】 RX Japan Ltd.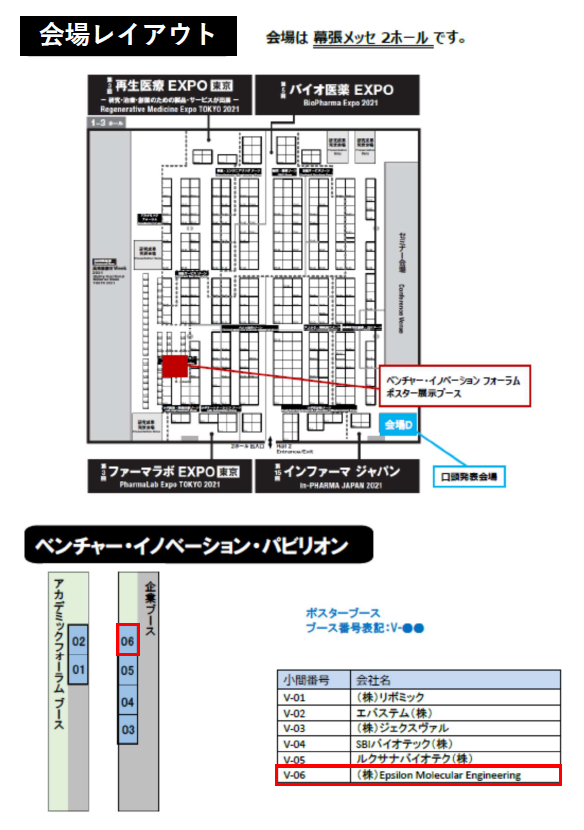 【Simultaneous exhibition】
The 23rd Interphex Japan- [Pharmaceuticals] [Cosmetics] Manufacturing Exhibition-
The 15th Inpharma Japan- [International] Pharmaceutical Raw Materials Exhibition-
The 5th Biopharmacy EXPO
The 3rd Regenerative Medicine EXPO [Tokyo]
【Reference】
3rd Pharmalab EXPO- [Pharmaceuticals] Research and Development Exhibition-Homepage